Sometimes articles are written about CharmandHammer.com and sometimes we write safety articles for trade publications. Below are some examples of both. We are always happy to write an article, or have an article written about us! Thank you for your interest in CharmandHammer.com. Hi resolution digital photos are available upon request.
Email press inquiries to terri @ Charmandhammer . com
---
Articles Published About www.CharmandHammer.com:
---
Safety Gear of One's Own
American Builders Quarterly
---
From work boots to hard hats NAWIC looks at safety equipment for women
The NAWIC Image
---
Protection Update: Women's PPE (pdf)
International Safety Equipment Association (ISEA) features www.CharmandHammer.com and a very cool picture of Rosie the Riveter wearing PPE!



---
Do It Yourself, Danger-Free
Health.com recognized our work gloves!


---

Finally, Women's Wear for the Hard-Hat Set
WALL STREET JOURNAL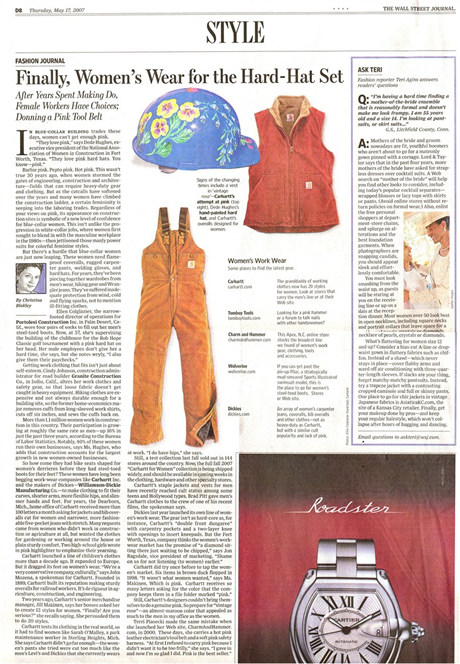 ---


National Safety Council, Safety & Health Magazine Features Charm and Hammer
One of the hottest trends in fashion this year?
Better fitting personal protective equipment - at least in the construction and manufacturing industries...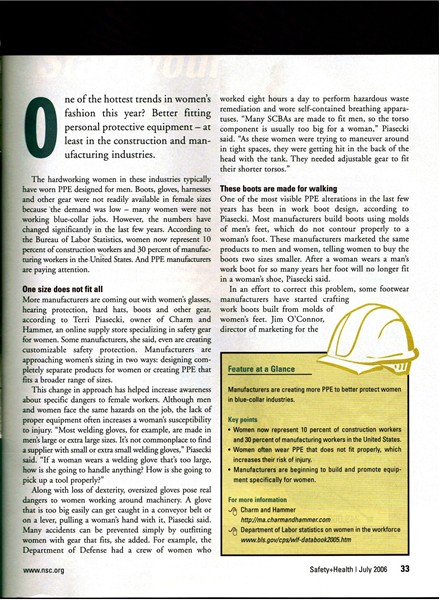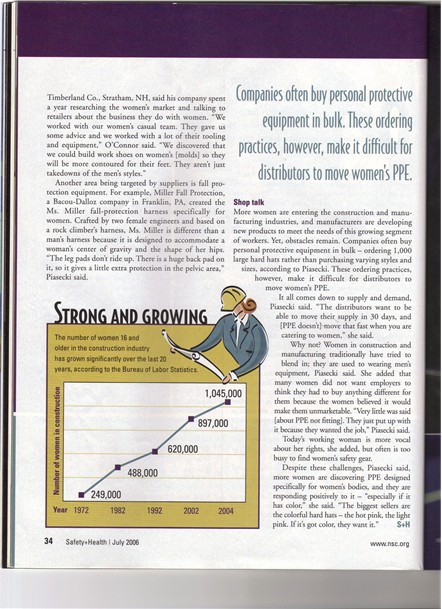 ---
Size really does matter: Construction clothing and safety gear for women
ConstructionNews.net Dallas- Ft Worth, San Antonio, Austin, and Houston

---
And some articles we write for trade publications:
---
Common Misunderstood OSHA Regulations, NAWIC Image
---
Safety Talk, Lift and Access Magazine: Sizing Up Fall Protection
---
BLR: Working Women's Safety and Health, The Vendor Perspective (pdf)
---
Miss-Fit, Nawic Image The challenges of providing PPE that fits.
Updated 2021