Heavy duty yet soft, tanned leather, this tool pouch is an exclusive design at Charm and Hammer!
Easier to wear than a full size toolbelt
These tool pouches are NOT DYED. The colors are incorporated into the leather during the TANNING process, so the color is permanent and will not fade or run!
This premium heavy duty suede leather is OH SO pigskin soft.
Limited Edition ~ Get 'em while supplies last!
Versatile Pouch is great for hair dressers, waitresses, horse groom, warehouse tenders, event planners, and more!
The black tool pouches, are one size fits all - you supply the belt - so you can customize your own fit.
The tool pouch has FOUR pockets:
Overall measurement: 10"L x 9" W
Main, Large Pocket: 7"L x 9"W
Secondary pocket on front of main pocket: 4"x5"
Two other pockets on front of main pocket: 3.5" x 3"
No Hammer Loop on these black suede pouches!

This is an exclusive item, available ONLY at CharmandHammer.com! After volunteering for a WomenBuild Habitat house, we designed this pouch. Since volunteers are only asked to bring a minimal number of items (square, tape measure, pencil and a hammer!) we thought a pouch would do the job! We also appreciate that women come in ALL sizes so the pouch is really a universal size so you can ...

Add your own belt for a custom look and perfect fit no matter what your waist/hip size!

Your Choice of Design is included at no extra cost: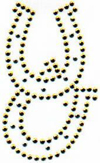 Did we mention - where these are Made?